About Dustin
Dustin's happy place is inside a recording booth. He voices campaigns for Nissan, Cincoro Tequila, Panda Express, Xfinity, and Skyrizi, as well as being the voice of Jake from State Farm's dog. He's the brand/on demand voice of TBS network, and voices promos for TNT, Tru-TV, Netflix, CBS and A&E.  He's also the narrator of Cesar Millan's new hit show, "Better Human, Better Dog" on Nat Geo and Disney+ among others.
He lives in LA, has been a voice actor for 20 years and loves it. He also loves dogs and tacos and is an above average poker player after ingesting large amounts of coconut water.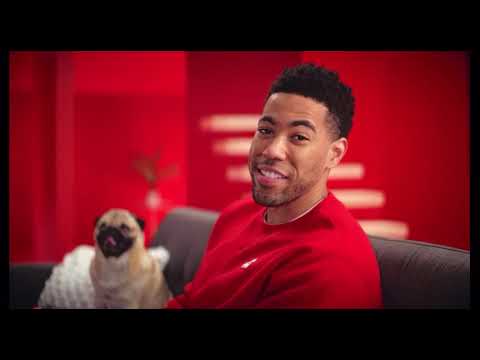 I'M JAKE FROM STATE FARM'S DOG!
Testimonials and Reviews
Dustin did a perfect job narrating my reality pilot, "I Forgive You." He was easy to direct and offered a variety of readings when asked. Dustin is professional, personable, collaborative, and possesses a very good narration voice. I will hire him again whenever I need a narrator.
Dustin Rubin reflects the author's voice in the narrative and provides realistic voices for the prisoners. He avoids being overdramatic or exploitative and adheres to Steinberg's characterizations. Even though the book lacks direction overall, Rubin's warm, inviting tone makes listening enjoyable.
AudioFile Magazine review
I've worked with Dustin for years and he's always fantastic. Most recently, (on my last show) we hired Dustin to do VO for a movie trailer parody and he knocked it out of the park. He's great at hitting comedy beats, takes direction well, is reliable, and just plain fun to work with. He is my first call any time I need VO for any project. He should be yours too.
We recently used Dustin for two very different promo pieces we were putting together. One was slapstick comedy and the other straight up horror. He nailed them both! Great range and a true pleasure to work with.
The highlight of the episode, though, is a stroll through the offices of Dee and Dum with Flycatcher (the frog prince), one of the most likeable characters in the Fables universe (even if he can be a touch preachy). Everything about Fly, from his model to his voice, is positively spot-on, and it's great to see the beginnings of the working relationship he has with Bigby in the comics.
I don't even know why I ask Dustin for two takes. He doesn't need two takes. He takes direction better than just about anyone I've ever worked with.
Dustin is an absolute pleasure to work with. He is extremely professional and takes direction really well. He gives you so many great options to choose from, which helps so much when you're in the editing room. I can't recommend Dustin highly enough!
Dustin Rubin is the most prepared and creative Voice Over talent I've had the pleasure of working with.  He impressed our studio team with his deliveries, but what made the lasting impression is how he added to his character performance.  Dustin far exceeded my expectations and I am looking forward to working with him again.
Dustin is a real pro, My partners and I were very happy with his ability to take direction and incorporate our notes.
Dustin Rubin creates a calming listening environment as he recounts Spaulding's story of overcoming a learning disability to become a successful businessman through the power of relationships. Rubin reads with a tempered enthusiasm that is a perfect fit for Spaulding's inspiring story and message. Rubin's even pace and frequent pauses allow the listener to focus on Spaulding's lessons.
COACHING
Dustin offers voiceover coaching in one-on-one sessions, consults, monthly group workouts, and occasionally in depth workshops. Visit https://calendly.com/dustinrubinvo for more info. Thanks!
CONTACT DUSTIN TODAY